On your first visit...

I am very much aware that coming in for therapy, especially if it's your first time, can be a nerve-racking experience. My streamlined approach and fully automated electronic records system makes the process a snap. Before your session, you will be emailed a link to a secure online portal, where you can fill out the necessary forms and enter payment information with just a few clicks.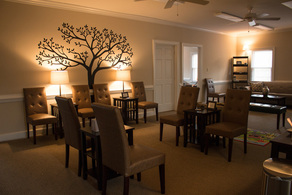 All you have to do is come in to our elegant lobby before your scheduled appointment and relax. Help yourself to a glass of water or a hot beverage, and enjoy aroma therapy and soothing music while you wait. We strive to maintain a peaceful atmosphere that is a respite from the bustling world outside!
---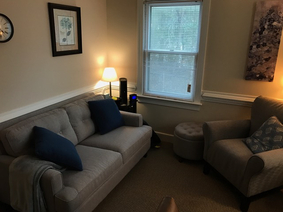 I will come out to greet you at the start of your session and show you to my comfortable office, where some folks like to try out my massage chair, squeeze a stress ball, doodle with some of my art supplies, or solve a brain-teasing puzzle while we chat and get to know one another. After briefly reviewing the forms you filled out online, discussing your rights and expectations for counseling, and answering any questions that you may have, the rest of the time is yours to share with me whatever you like about what prompted you to come in.
---
To help us to plan out how we will approach your treatment, I will also have a few questions for you about your mental health history and any problems you are currently experiencing. This may allow me to establish a diagnosis*, as well, which will be needed if you are using your TriCare benefits, or would like to file Out-of-Network with your health insurance plan to be reimbursed for a portion of the cost of services.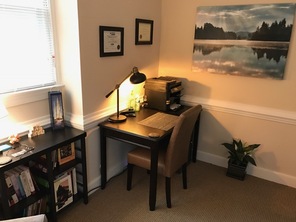 If you feel it is right for you, you may also choose to meet with our on-site yoga therapist, who specializes in healing trauma through mindfulness, body, and breathing work. Coming soon, a massage therapist and nurse practitioner will also be joining our collaborative, so all of your health and wellness needs can be met under one roof. Additionally, we are able to provide referrals to fantastic chiropractors, acupuncturists, dietitians, personal trainers, and other health professionals, as we continually focus on your whole body wellness!
---
*Important Note:
Very specific criteria exist for diagnosing mental health disorders, and not everyone who comes in for counseling will meet those criteria. For this reason, it is important to note that your therapy may not be covered by insurance. Please don't hesitate to ask questions, and be sure to read my
Payment Information
page for more information on this topic!